AL TYPE 10 Super Ten (Light weight Model)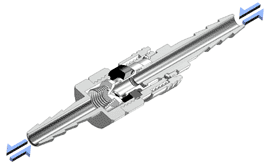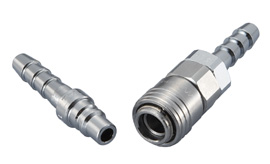 Low pressure, Single valve One touch type

One hand operation allows fast and easy connection and disconnection.

User-friendly light-weight design reduces pneumatic operators' hand fatigue.

Twisted hose can be recovered easily by the connection of couplings.

Used in air piping, the least air leakage leads to longer lifetime of the compressor and then to the saving of electricity.

Sockets and plugs can be connected in all AL type super ten couplings.

Fluid can be flow from either socket or plug.

Packing material should be selected for the applicable fluid.
Caution
Scraps of the seal tape and dust causes fluid leakage. Be careful not to stick them to the couplings.

Do not impact, hit, pull or bent. Don't dismantle. It causes damage to the coupling.
Specification
Female thread (F), Male thread (M), Hose nipple (H), Polyurethane coil tube connection (B)

Nitrile (NBR) : −20°C to + 80°C

Fluororubber (FKM) : −20°C to + 180°C