Argonite Amulay 30
Argonite Amulay is Clean and Global
ARGONITE uses completely naturally occurring inert gases Argon and Nitrogen. It a very environmentally friendly fire extinguishing agent. ARGONITE has ZERO global warming potential, and ZERO ozone depletion, making it safe, clean and environmentally friendly.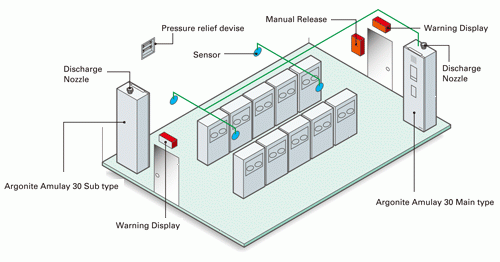 Environmentally Friendly

Argonite is 50% Argon and 50% Nitrogen making it an eco-friendly extinguishing agent. After a discharge there is zero effect on global warming and ozone depletion. It is also a clean extinguishing media with no need for any clean up measures after use.

Global Standard

ARGONITE is recognized in the ISO global standards and in NFPA 2001 under the name IG-55. This clean, inert extinguishing agent is the global standard extinguishing agent of the future.

Extinguishes Most Fires

Argonite is able to extinguish most fires. In particular when you do not want to use water, foam or dry powder, Argonite is ideal. Computer rooms, data centers are the perfect areas to be protected by Argonite.

Safe

Argonite extinguishing systems discharge inert gas in to the protected area to extinguish the fire by suffocation. In air the normal concentration of oxygen is approximately 21%. When Argonite is discharged the oxygen level is decreased to between 12 and 13%. This level of oxygen poses no threat to human life, and for short exposure times the human body would feel little or no adverse effects. ARGONITE is a safe extinguishing agent.

Space Saving Design

Argonite Amulay 30 has the control system and the cylinders in a compact package. Compared to our regular system it takes up only 70 to 80% of the space. Piping work is not required making installation simple and cost effective.
Specification
Name
Argonite Amulay 30
Approval
-441
Type
2 Cylinder Main
3 Cylinder Main
2 Cylinder Sub
3Cylinder Sub
Model
AGNM2-8322
AGNM3-8322
AGNS2-8322
AGNS3-8322
Total Weight
(With83L Cylinders)
Approx. 410kg
Approx. 575kg
Approx. 380kg
Approx. 545kg
Fire Extinguishing Agent
IG-55
Cylinder Type (volume)
83L (For Model 8322、68L(For Model 6818)
Discharge Amount (at 20 ℃)
21.8m

3

(83L cylinder)、17.8m3(68L cylinder)
Cylinder
Material:CrMo Steel・Test Pressure:50MPa・ Gray
Box Dimensions(mm)
W650×D400
×H2,050
W950×D400
×H2,050
W650×D400
×H2,050
W950×D400
×H2,050
Box Construction

Main Type, (Front hinged door)
(t=1.6mm)

Sub Type (Hanging front panel)
Box Color
White
Operating Temperature Range
-10℃~+40℃
Humidity
85%Max
Price
(Product/ Sales Tax)
Contact Us
Specification
Actuation
Main type: Manual or Automatic can be selected
Sub type: Activated by main type
Sensor Line
2 can select AND / OR operationCPX-UEN2
Voice Alarm
2 Channel approval No. AA-008
Delay time
Selectable 5~10seconds
Monitor Function

1 Detector Line Open Fault
2 Ground Fault
3 Circuit Voltage Fault
4 Manual Release Line Fault
5 Actuator Line Fault
→
Lamp Display / Buzzer Sounds / Fault Relay Activates
6 Actuator Not Connected
→
Lamp Display・Buzzer Sounds

Relay Contact Output

1 Manual・Auto : Form C ×1
2 Fire: Normal Open ×1
3 Actuate: Normal Open ×1
4 Discharge: Normal Open ×1
5 Fault: Normal Open ×1
6 Machine Stop: Form C ×3

Relay Contact Specification

60W Max・125VA Max
1A Max・250V AC Max・220V DC Max

Actuator
GHK-6A
Pilot Cylinder
Model :N2-B11.2、Pressure (17.65MPa)、Gas Amount (11.2g)
Maintenance Switch

Normal State: Normal Lamp On, system can operate:
Maintenance State: Maintenance lamp flashes, actuator can not actuate

Circuit Voltage
24V DC
Power
50WMax
Power Supply

The following power supplies are available
◆Non-approved Type
1 Battery Capacity:3.5AH・Input Voltage: 100V AC
2 Battery Capacity: 3.5AH・Input Voltage: 200V AC

◆Approved Type (Option)
1 Battery Capacity: 3.5AH・Input Voltage: 100V AC
2 Battery Capacity: 3.5AH・Input Voltage: 200V AC