CABINEX-7KZ
The drawing below is a typical example for installation of CABINEX for NC lathe. The same systems can be applied for Machining Center.
Explanation of each part of the Cabinex system.
(1)CABINEX Body : It contains CO 2 Cylinder and Control Panel. It should be decided in accordance with the volume of chemical agent required.
(2)TH Sensor : Heat Detector at 70℃. Hatsuta's original sensor.
(3)Nozzle : Total flooding system.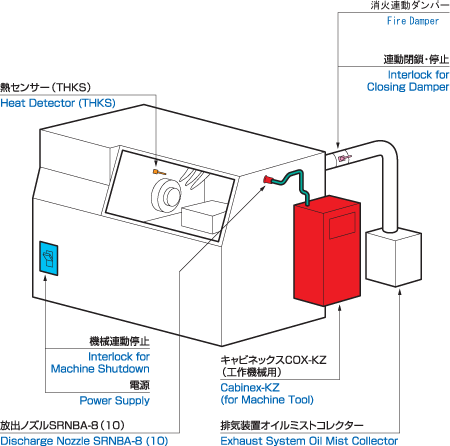 Cabinex EN2 is for FPD, SEMI, and Machininf tool.

We can drsign based on your machine.You can choose lots of Options.

Fire Detection Setup:

・ Selectable between "AND" function and "OR"function.
・ No limitation to combination of types of sensors.
・ Small sensors(developed by HATSUTA)available.

Flexible Installation and Functional Setup:

・ Selectable between "Automatic" and "Manual" operation modes.
・ Selectable between "all-in-one" combined unit and separated units of Operation Panel and Extinguishing Agent Container.

Self-Supervision and Safety Precaution:

・ Automatic alarm indication of possible fault(s) in the sensors(s) and of pressure reduction in the Extinguishing Agent Container.
Specification
Integrated Type
Certification No.
COX-3EN2
COX-5EN2
COX-7EN2
COX-14EN2
COX-18EN2
Main Chasis & Container
External Dimentions
(H×W×D)mm
760×290×180
920×320×215
920×320×215
1,160×400×300
1,160×400×300
Weight
Approx. 23kg
Approx. 35kg
Approx. 37kg
Approx. 86kg
Approx. 90kg
Fire Extinguishing Agent
Carbon Dioxide ( CO2 )
Weight of the Fire Extinguishing Agent
3.2kg
4.6kg
6.8kg
14.0kg
18.0kg
Coating Specifications
Coating Color : Red Melamine Baking Finish, Japaning
Material
Steel ( SPCC ) t=1.2mm
Steel ( SPCC ) t=1.6mm
Operating Temperature Range
0℃~+40℃
Control Function
Input Supply Voltage Range
100V, 110V, 200V, 220V, AC 50/60Hz ( With Each Voltage Terminal )
Power Cunsumption
24VA Max.
Operation Circuit Voltage
24V DC
Sensor Input Circuit
2 System ( AND / OR Operation Selection System )
Push Button for Start-Up
Red Push Button ( With Breaking Acrylic Plate )
Reset Button
White Push Button
Automatic/Manual Operations Selector Switch
The Fire Extinguisher can be Operated with a Sensor Input Signal in the Automatic Mode
Alarm Buzzer
Electronic Buzzer ( Continuous Sound in Case of Fire、Intermittent Sound in Case of Abnormal Condition )
Buzzer Stop Switch
Stops the Intermittent Sound in Case of Abnormal Condition ( The Continuous Sound in Case of a Fire Cannot be Stopped )
Power Indicator Lamp
Green LED
Auto Indicator Lamp
Green LED ( Light Up in the Auto Mode )
Fire Indicator Lamp
Red LED ( Flashing in Case of Fire )
Discharge Indicator Lamp
Red LED (

Flashing when Discharge

)
Fault Indicator Lamp
Yellow LED (

Flashing at start-up unit failure, sensor wiring line suspended

)
Barn-out Indicator Lamp
Red LED ( Flashing at Sensor Wiring Line Suspended )
Unit Failure Indicator Lamp
Red LED ( Flashing When the Start-Up Unit Connector is not Connected Yet )
Reduced Pressure Indicator Lamp
Red LED ( Flashing When the Fire Extinguishing Container Inner Pressure Drops )
Buzzer Stop Indicator Lamp
Red LED ( Flashing at Buzzer Stop )
Fire Annunciating Contact
Contact c×1(

Contact Switches at Sensor Alarm

)
Machine Stop Contact
Contact c×1, Contact a×1, Contact b×1(

Contact Switches at AC Power Down

)
Power Failure Annunciating Contact
Contact c×1(

Contact Switches at Discharge

)
Fault Annunciating Contact
Contact c×1(

Contact Switches at Fault, except Start-Up Unit Connection Fault

)
Automatic/Manual Annunciating Contact
Contact c×1(

Manual Mode B-B2 is Closed, Auto Mode B-B1 is Closed

)
Contact Specification
Contact Capacity : 60W/125VA Max. Maximum Current: 1A Maximum Voltage: 250V AC/200V DC
Battery
Ni-Cd battery/24V DC/0.45Ah/5hours
Timer
Delayable up to 10 seconds
Remote start
(Manual Release)
Possible to actuate by remote push button
Specification
Separate Type Control Unit
Certification No.
CPX-REN2
CPX-UEN2
Main Chasis & Container
External Dimentions
(H×W×D)mm
340×280×90
220×340×130
Weight
Approx. 6kg
Approx. 6.3kg
Fire Extinguishing Agent
Carbon Dioxide ( CO2 )
Weight of the Fire Extinguishing Agent
-
Coating Specifications
Coating Color : Red Melamine Baking Finish, Japaning
Material
Steel ( SPCC ) t=1.6mm
Operating Temperature Range
0℃~+40℃
Control Function
Input Supply Voltage Range
100V, 110V, 200V, 220V, AC 50/60Hz ( With Each Voltage Terminal )
Power Cunsumption
24VA Max.
Operation Circuit Voltage
24V DC
Sensor Input Circuit
2 System ( AND / OR Operation Selection System )
Push Button for Start-Up
Red Push Button ( With Breaking Acrylic Plate )
Reset Button
White Push Button
Automatic/Manual Operations Selector Switch
The Fire Extinguisher can be Operated with a Sensor Input Signal in the Automatic Mode
Alarm Buzzer
Electronic Buzzer ( Continuous Sound in Case of Fire、Intermittent Sound in Case of Abnormal Condition )
Buzzer Stop Switch
Stops the Intermittent Sound in Case of Abnormal Condition ( The Continuous Sound in Case of a Fire Cannot be Stopped )
Power Indicator Lamp
Green LED
Auto Indicator Lamp
Green LED ( Light Up in the Auto Mode )
Fire Indicator Lamp
Red LED ( Flashing in Case of Fire )
Discharge Indicator Lamp
Red LED ( Flashing when the Start-Up Unit Operates )
Fault Indicator Lamp
Yellow LED ( Flashing at Start-Up Unit Failure, Sensor Wiring Line Suspended and Fire Extinguishing Agent Container Reduced Pressure )
Barn-out Indicator Lamp
Red LED ( Flashing at Sensor Wiring Line Suspended )
Unit Failure Indicator Lamp
Red LED ( Flashing When the Start-Up Unit Connector is not Connected Yet )
Reduced Pressure Indicator Lamp
Red LED ( Flashing When the Fire Extinguishing Container Inner Pressure Drops )
Buzzer Stop Indicator Lamp
Red LED ( Flashing at Buzzer Stop )
Fire Annunciating Contact
Contact c×1
Machine Stop Contact
Contact c×1, Contact a×1, Contact b×1
Power Failure Annunciating Contact
Contact c×1
Contact Specification
Contact Capacity : 60W/125VA Max. Maximum Current: 1A Maximum Voltage: 250V AC/200V DC
Timer
Delayable up to 10 seconds
Specification
Separate Type
Model
COX-7ENS2
COX-14ENS2
COX-18ENS2
Main Chasis & Container
External Dimentions
(H×W×D)mm
920×320×215
1,160×400×300
1,160×400×300
Weight
Approx. 36kg
Approx. 84kg
Approx. 88kg
Fire Extinguishing Agent
Carbon Dioxide ( CO2 )
Weight of the Fire Extinguishing Agent
6.8kg
14kg
18kg
Coating Specifications
Coating Color: Red Melamine Baking Finish, Japaning
Material
Steel ( SPCC ) t=1.2mm
Steel ( SPCC ) t=1.6mm
Operating Temperature Range
0℃~+40℃
Unit Product Code
60050299
-
Maitenance valve
With Out
Specification
Separate Type
Sub Type
Model
COX-30ENA2
COX-45ENA2
COX-30ENA2-S
COX-45ENA2-S
Main Chasis & Container
External Dimentions
(H×W×D)mm
1,755×400×330
1,915×525×380
1,755×400×330
1,915×525×380
Weight
Approx. 140kg
Approx. 180kg
Approx. 140kg
Approx. 180kg
Fire Extinguishing Agent
Carbon Dioxide ( CO2 )
Weight of the Fire Extinguishing Agent
30kg
45kg
30kg
45kg
Coating Specifications
Coating Color: Red Melamine Baking Finish, Japaning
Material
Steel ( SPCC ) t=1.6mm
Operating Temperature Range
0℃~+40℃
Maitenance valve
With
With Out