Home Fuel Oil Energizer "HFE"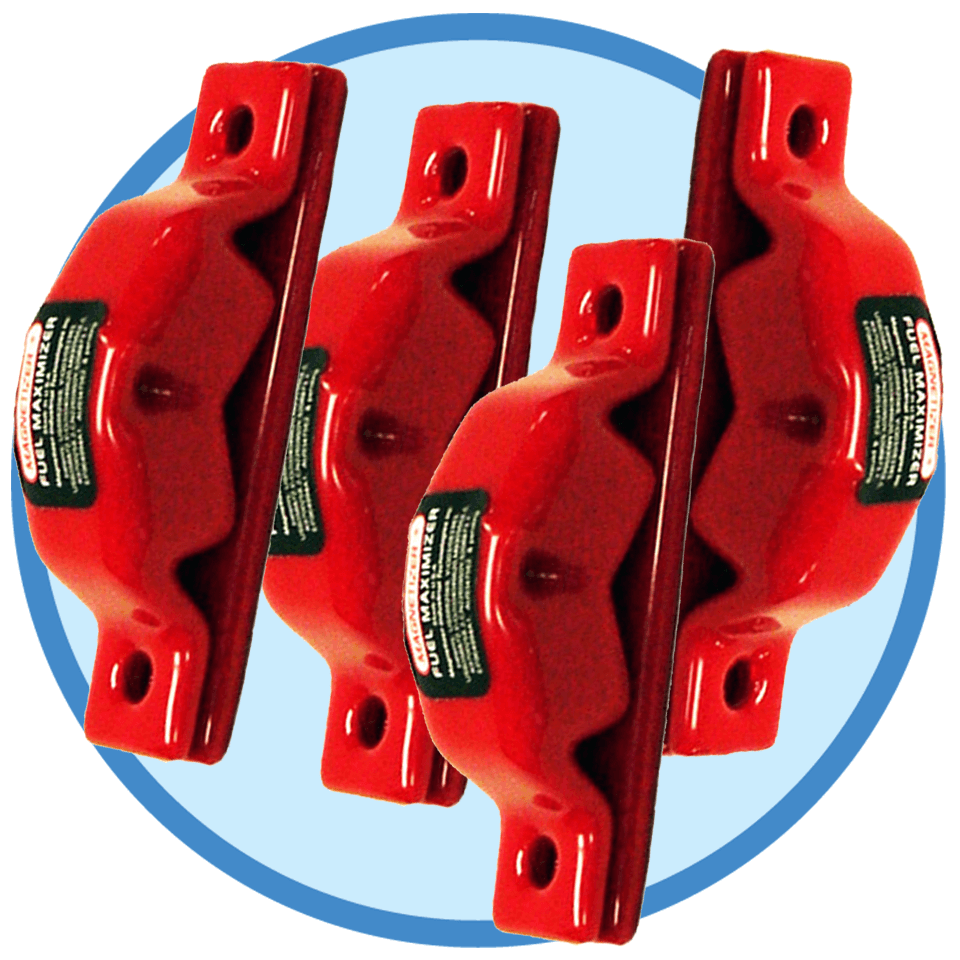 Description
Are Your Tired of High Cost of Fuel?
Then the Magnetizer® Home Heating Energizers is for you.
The environmentally friendly Magnetizer® "HFE" for home boilers, stoves or heaters saves an average of 15-25% on fuel oil, natural gas or propane heating bills.
The Magnetizer® causes the naturally formed chemical associations (hydro-carbon clusters) into a single, potentiated molecular state. These single charged molecules burn more uniformly, completely, and therefore more efficiently because the fuel has become fully atomized and ionized with oxygen. It's like the enzymes our body needs to help it completely burn our food.
The result of the Magnetizer-charged fuel is a powerful, even, uniform and complete burn resulting in superior combustion efficiency that saves fuel and energy costs.
In addition, the increased combustion efficiency caused by Magnetizer® dramatically reduces emissions caused by unburned fuel. Fewer emissions = cleaner air to breath.
Installation
Magnetizer® is easy to install in minutes (comes with a simple instruction in the box), no tools or plumbing required, it simply straps on standard pipes (ø ¼ – 5/16"). There are no moving parts which could wear out plus it requires no external power.
homes • small offices • shops • garages • cooking • water heating • gas fireplaces
Specifications
Material: permanently magnetized ceramic alloys
Power rating: 3.5 Million Gauss Oerstadt energy units per system
Quality Assurance
Each Magnetizer® home heating energizer is specifically engineered and is fully guaranteed and carries a lifetime power warranty.
Magnetizer® is more efficient than any competing magnetic product on the market due to its patented "monopolar" technology. We encourage you to visit the Home page and watch a video that explains why.
It comes with a Life Time Power Warranty and will be replaced at no cost to you if it loses its magnetic strength.
It is a permanent solution and a one-time investment for your raising home fuel oil heating costs and you can take it with you from an old house to a new one.
Magnetizer® is the global leader in the fuel conditioning industry. Magnetizer® is currently improving the quality of life in 100 countries.
Customer comments
The savings are amazing." G.S.

The house heated so fast – I saved so much money." G.W.
I wanted to take the time to thank you for the Magnetizer Systems for both our propane fuel lines and for water treatment in our commercial and self-service launderettes. Just after the installation, we quickly saw a savings of 16% on our fuel consumption cost. This equaled a savings of just over $200.00 per month.
After the installation of the water system, we saw an immediate change to the cleanliness of the clothing as well as the 1/3 decrease in chemicals needed to clean the clothes. The whites are considerably whiter and the colors come out brighter. The difference was immediately recognized by our customers.

We were so pleased with the results, we decided to put the Magnetizer on our home. Not only do we see a difference in the taste of the water, but the most enjoyable thing is to take a shower with the silky like water that is a result from the system.

I would not hesitate to recommend the Magnetizer to anyone that is concerned about utility costs and upkeep of their plumbing. The difference will be seen almost immediately.

Sincerely,"

T.R., Florida