KC TYPE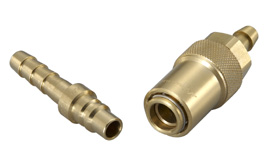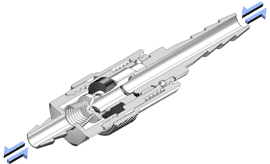 Mold coolant water, Single valve Type
Easy connection and disconnection of water cooling lines for replacement of molds.

Long sleeve sockets make it easy to connect and disconnect to plugs embedded in molds.

One hand operation allows fast, easy connection and disconnection.

There is no vaccum function.
Caution
Fluids must be always filtered in use.

Do not connect or disconnect couplings under pressure.

Fluid can flow from both socket and plug.

Scraps of the seal tape and dust causes fluid leakage. Be careful not to stick them to the couplings.

Do not impact, hit, pull or bent. Don't dismantle. It causes damage to the coupling.
Specification
Female thread (F), Male thread (M), Hose nipple (H)

Fluororubber (FKM) : −20°C to + 180°C